NUTGAP is open to Fort Valley State University or Savannah State University students interested in pursuing graduate study in nutritional biology.
All applicants to NUTGAP must….
be sophomores, juniors, or seniors* at Fort Valley State University or Savannah State University;
hold a grade point average of at least 3.0;
agree to complete a course(s) relevant to their summer research before the start of the internship that will be identified in consultation with the HBCU and UCD mentors.
*We regret that we cannot admit seniors who plan to enter a PhD program in the fall immediately following NUTGAP.
Applications will consist of
this web form completed by the applicant;
college transcripts — unofficial ones are OK;
a letter of recommendation from a HBCU faculty member in the sciences;
a one-page statement of purpose that describes the student's research interests. To help track applications, please name this file nutgap_lastnamefirstinitial_application.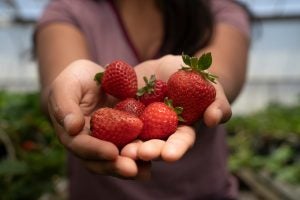 Email items (2)-(4) to Carole Hom (clhom@ucdavis.edu); please include NUTGAP application and your name in the subject line. Target date: 10 November (please don't hesitate to ask if you need an extension). Your references can email your letter separately.
Applicants will be selected based on the strength of their record and fit of research interests to appropriate faculty. Finalists may be interviewed by videoconference.
Applicants will be notified of their status by 16 December.